Geode Resin Art
Online Course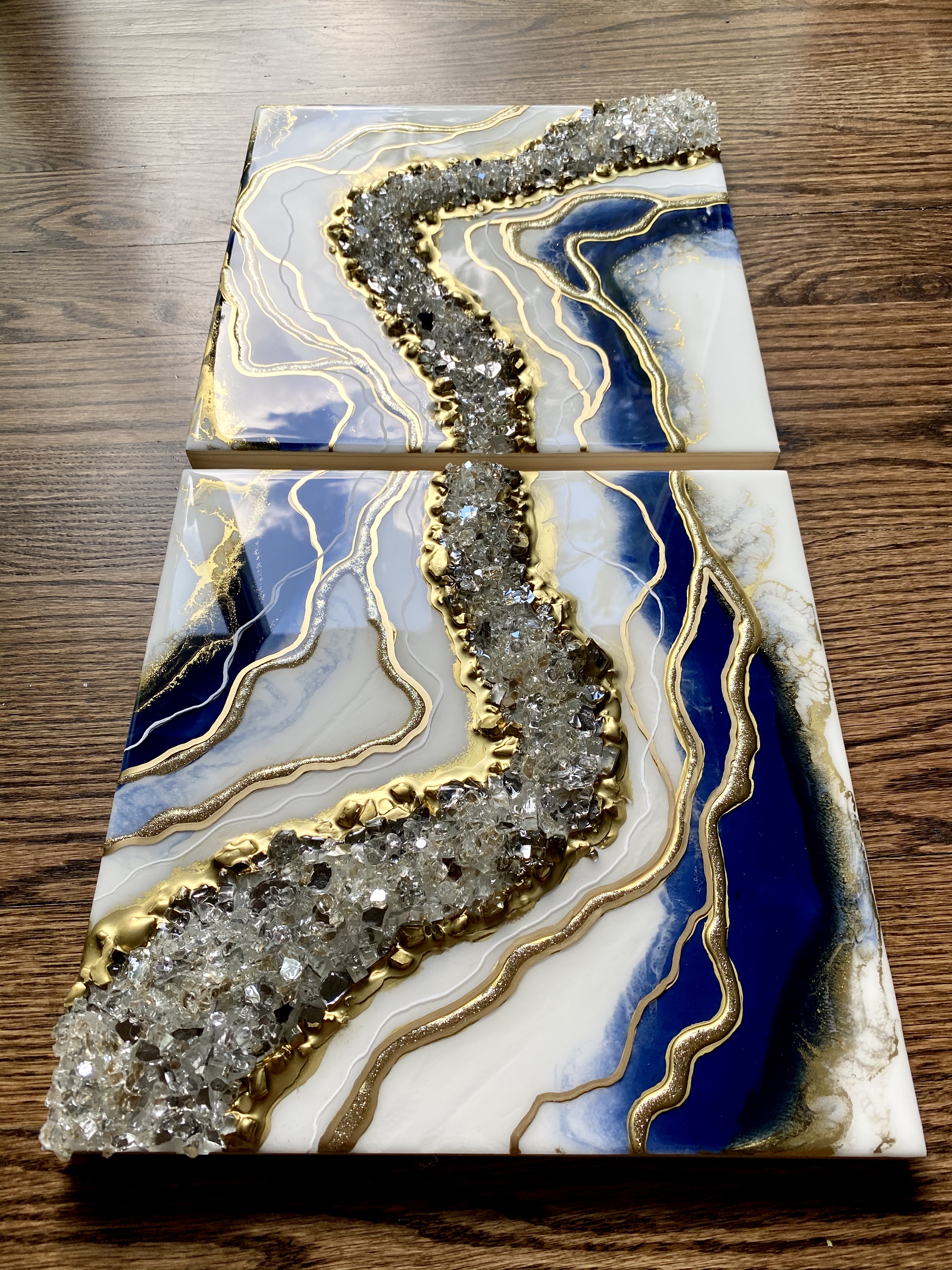 Learn to Pour Stunning Geodes
Every Time.
This Geode Resin Art Course is a complete guide designed to give you a deeper understanding of geode resin art
This course teaches how to create a timeless geode using techniques such as:
How & where to pour certain colors to create symmetry and balance
Exact placement of glitter lines to enhance details
What types of textured points to use and how to layer them to capture their sparkle
My secret to creating thin & clean glitter lines
Stages of detailed paint brush work
Marker line placement techniques
How to pair colors to keep your painting minimal, yet elegant
How to create depth and tips for layering
How to prep, prime, sand and hang your painting!
You will gain a deep understanding on how each layer is placed and how it affects the next. The material explained will not only teach you how to improve your geodes but how to problem solve and pour stunning geodes, every time.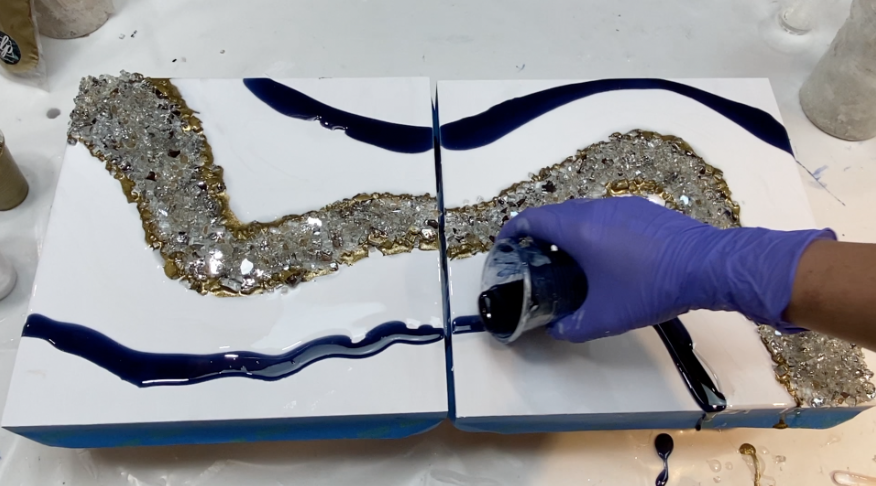 Learn my secret tips on where I place my resin on my panel and why. Create symmetry and balance in your pours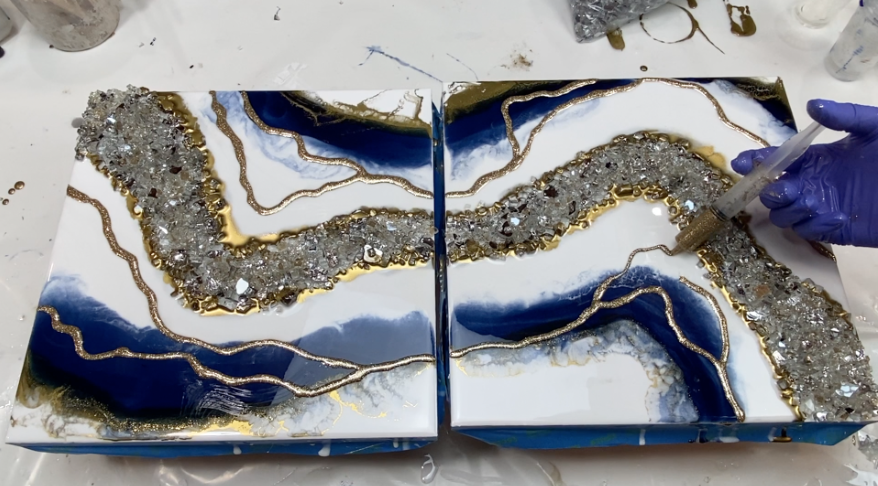 The beauty of geode art comes from layering the details. In this course, I reveal my secrets to creating stunning detail work and how every aspect of each layer affects the other
Enjoy this supplemental material added at the end of the course to help solidify your understanding of resin art!
Learn resin secrets and advanced tips and techniques to create stunning artwork that will make everyones heads turn!
Since geodes are created in layers, this is a four day long process. So let that creativity flow and watch as it all comes together in the end!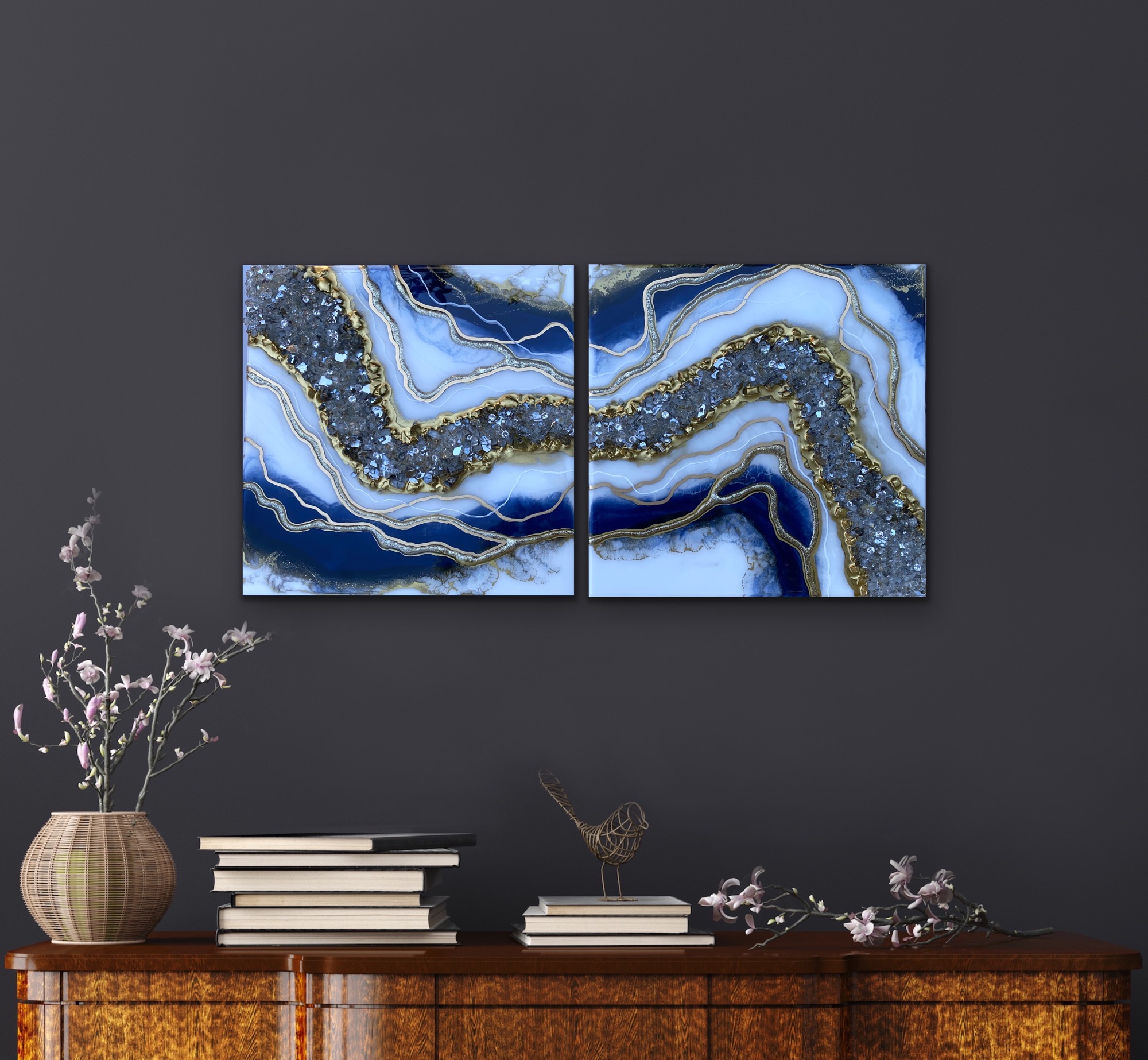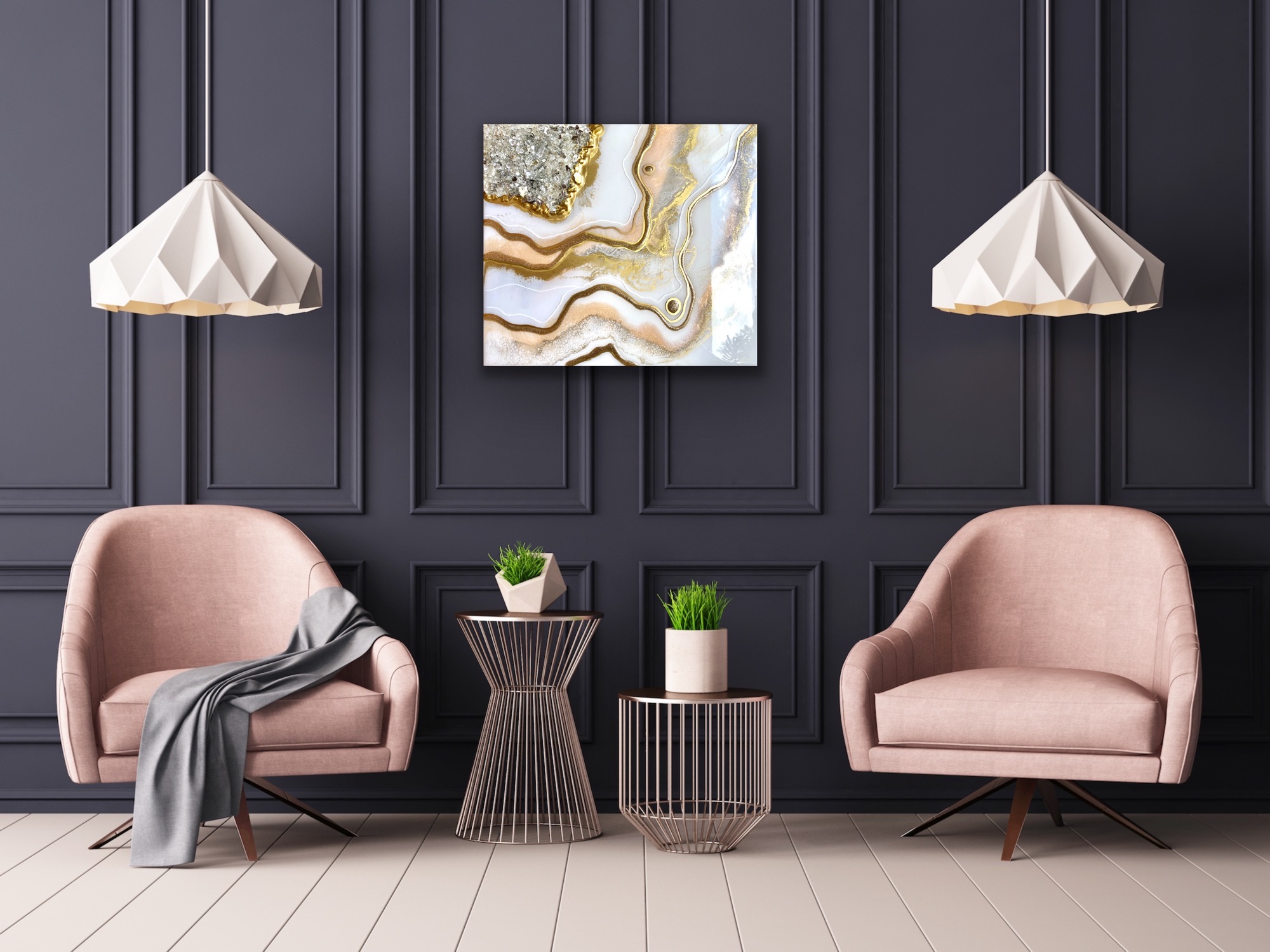 Supplement your learning with this FREE time-lapse of a
stunning single panel pour
This addition to the course is meant to help you gain a comprehensive understanding on how each piece is created with precision and detail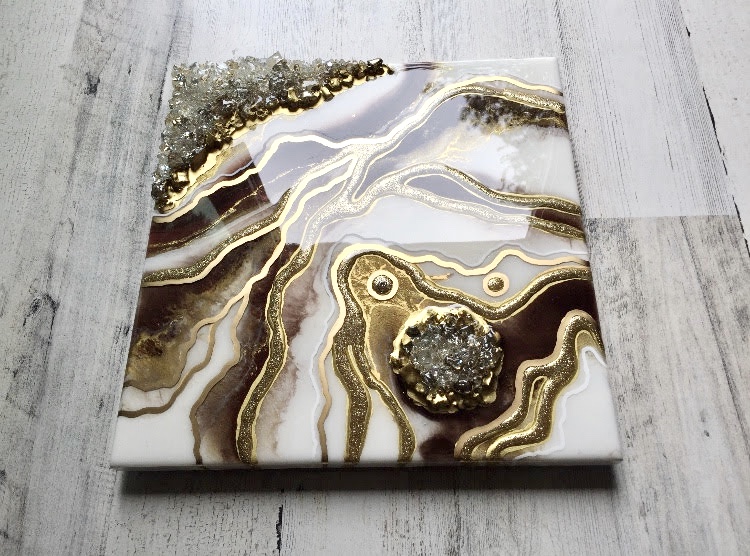 'Tigers Eye' is a painting I crated to resemble the Tigers Eye gemstone. This gemstone has unique, vibrant brown and gold reflective colors that I embodied in this work of art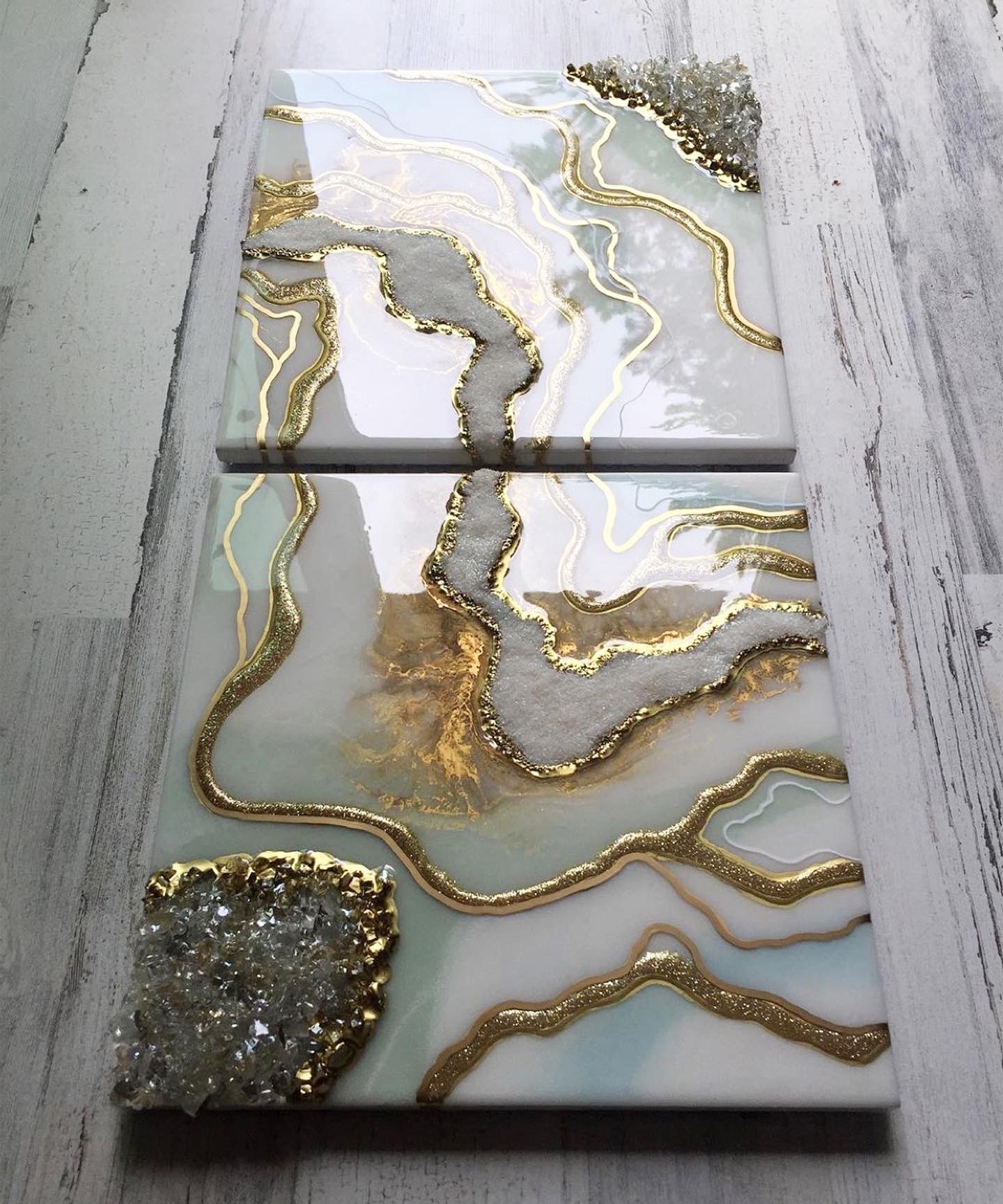 'Sage' is a pastel painting I created that reminded me of purity and clarification. The name originated from the cleansing pro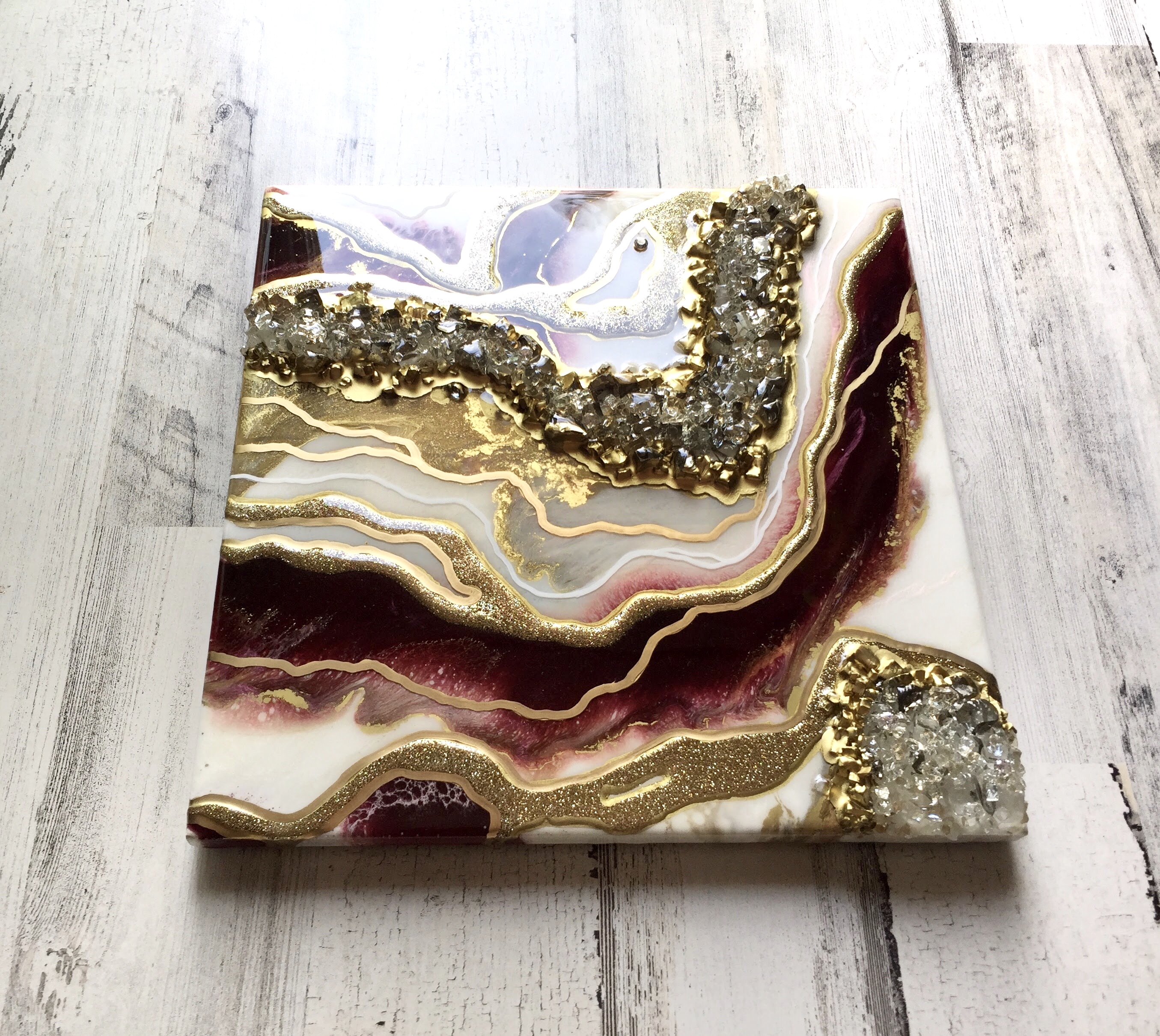 A artwork created around passion, love and desire
Materials you will need (EXPLAINED FURTHER IN COURSE):
3M Respirator

Epoxy Resin

Nitrile Gloves

Acrylic Paint

A board/panel to pour on

Sandpaper

Primer (Gesso or house paint/primer)

Mixing cups, measuring cups and stirring/popsicle sticks

Heat gun or blowtorch

Painters tape

Glass chunks (explained in course)

A tarp or shower curtain to protect your table

Baby wipes (for cleanup)

White Pigment Paste (I prefer Le Rez brand) and my Gold for cells (optional - links given in course)

Isopropyl alcohol or Gloss varnish for the Gold (optional)

Hangers (optional)
Additional Courses
In this course, I go into depth about the fundamentals of resin art and take you through an easy-to-follow pouring tutorial. This course is for beginners AND intermediate artists who want to learn more about resin art and refine their skill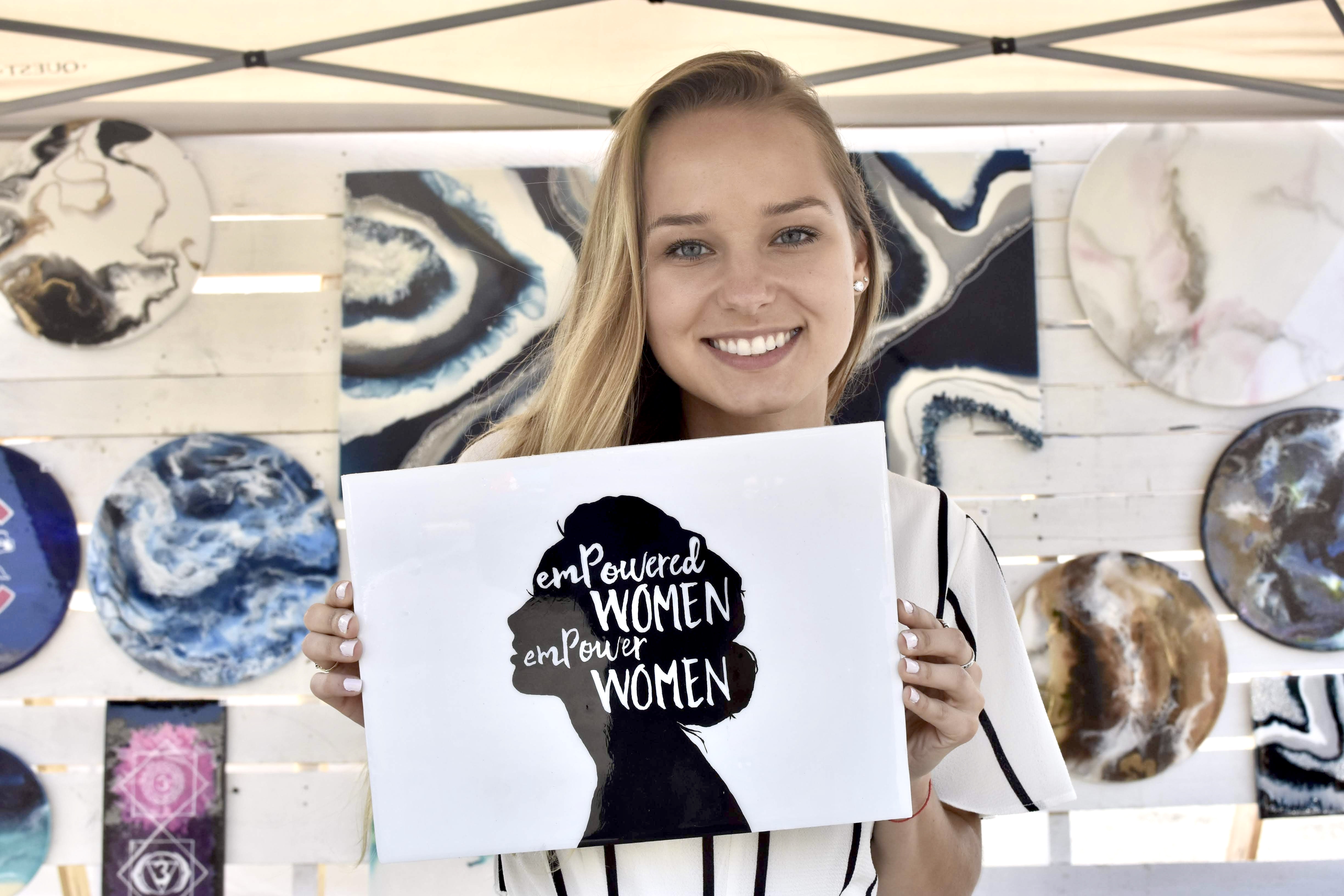 Four years ago, I spent a late summer night scrolling through the depths of YouTube. I came across some art channels, where I first discovered fluid art. I was so intrigued that I continued watching pouring videos when I stumbled upon resin art. I was in absolute awe. I hadn't seen anything like it. I was determined to watch every. single. YouTube. video at the time. And I did - it took me until 6am to do it. But I didn't find a single technique video or tutorial on how it was done. None! Believe it or not, four years ago, resin art was barely heard of. Not many people were playing with it, and the few that were, weren't willing to share how they did it. I messaged artists on Instagram, e-mailed them, and even started blog threads to no avail. Most replies were, "I learned on my own and spent the time and money, you should too." Understandably so. So I marched with my materials to my garage and probably spent more money on trial and error than anything else. But, I was stubborn and I was obsessed. Through time, I taught myself this art form and started sharing tutorials through my online platform. Many people ask me why I'm willing to share so much. Well, it's because not many artists helped me at the time and to the few that did, I was so extremely grateful. I told myself that when I figure this darn thing out, I would share it with the world! There's no holding back. Resin art is so beautiful, it doesn't need to be held as a trade secret.
Check your inbox to confirm your subscription